Modified Pelta-class Assault Ship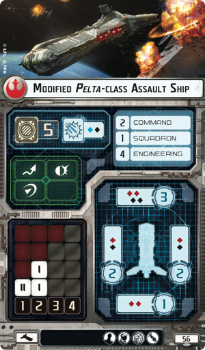 Ship Information
Hull Points:





Front Shields:



Side Shields:


Aux Shields:
Rear Shields:

Anti-Squadron Armament:


Front Arc Armament:




Side Arcs Armament:


Aux Arcs Armament:
Rear Arc Armament:


Special Arc Armament:
Defense Tokens:

Evade

Brace

Redirect
---
Upgrades:


Background
The Pelta-class frigate, also known as the Republic medical frigate, was a model of frigate manufactured by Kuat Drive Yards. During the Clone Wars, they were used by the Republic Navy to safely ferry injured clones to medical stations for treatment.
During the Age of the Empire, the early rebellion against the Galactic Empire repurposed one Pelta-class frigate, which they named Phoenix Home, as a rebel capital ship.
- from Wookieepedia, the Star Wars Wikia.