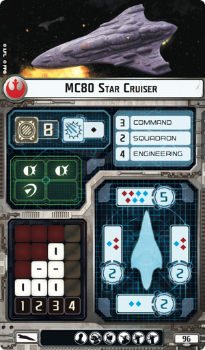 Ship Information
Hull Points:








Front Shields:





Side Shields:


Aux Shields:
Rear Shields:


Anti-Squadron Armament:

Front Arc Armament:







Side Arcs Armament:



Aux Arcs Armament:
Rear Arc Armament:


Special Arc Armament:
Defense Tokens:

Brace

Brace

Redirect
---
Upgrades:




Background
The MC80 Liberty type star cruiser was a model of MC80 star cruiser that served in the Alliance to Restore the Republic and New Republic. During the Galactic Civil War, several of these ships participated in battles such as Endor and Jakku.
- from Wookieepedia, the Star Wars Wikia.