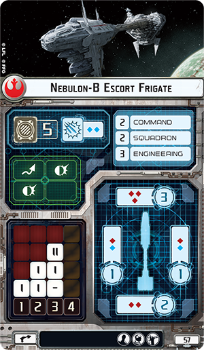 Ship Information
Hull Points:





Front Shields:



Side Shields:

Aux Shields:
Rear Shields:


Anti-Squadron Armament:


Front Arc Armament:



Side Arcs Armament:


Aux Arcs Armament:
Rear Arc Armament:


Special Arc Armament:
Defense Tokens:

Evade

Brace

Brace
---
Upgrades:


Background
The EF76 Nebulon-B escort frigate was a 300-meter-long warship that was built by Kuat Drive Yards for use by the Imperial Navy, to protect convoys from Rebel Alliance starfighter actions. It was, however, used more famously by the Rebellion.
- from Wookieepedia, the Star Wars Wikia.