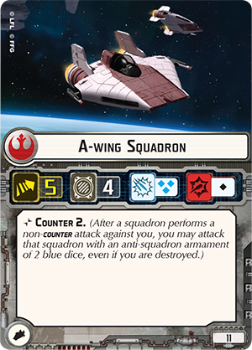 Squadron Information
Hull Points:




Speed:





Point Cost: 11
Anti-Squadron Armament:



Anti-Ship Armament:

Keywords

Counter 2
Background
The RZ-1 A-wing interceptor was a starfighter designed by the Rebel Alliance during the Galactic Civil War. One of the fastest mass-produced interceptors in the known galaxy, the A-wing was even faster than the Imperials' TIE Interceptor, despite also having shielding and a hyperdrive, unlike the cheaper TIE model.
- from Wookieepedia, the Star Wars Wikia.