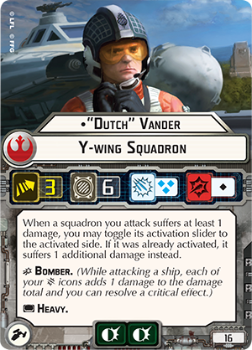 Squadron Information
Hull Points:






Speed:



Point Cost: 16
Anti-Squadron Armament:



Anti-Ship Armament:

Keywords

Bomber

Heavy
Defense Tokens:

Brace

Brace
Unique Ability:
When a squadron you attack suffers at least 1 damage, you may toggle its activation slider to the activated side. If it was already activated, it suffers 1 additional damage instead.
Background
Jon "Dutch" Vander was a Human male and a senior pilot that joined the Rebel Alliance during the time of the Galactic Civil War. In 0 BBY, he fought in the Battle of Yavin and was shot down by Darth Vader.
- from Wookieepedia, the Star Wars Wikia.