Gladiator I-Class Star Destroyer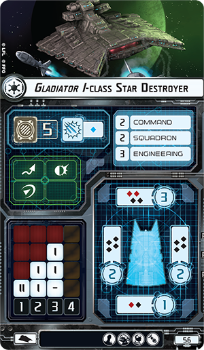 Ship Information
Hull Points:





Front Shields:



Side Shields:


Aux Shields:
Rear Shields:

Anti-Squadron Armament:

Front Arc Armament:




Side Arcs Armament:




Aux Arcs Armament:
Rear Arc Armament:


Special Arc Armament:
Defense Tokens:

Evade

Brace

Redirect
---
Upgrades:


Background
The Gladiator-class was a small Star Destroyer that shared its keel design with the Broadside-class cruiser. A ventral protrusion on the hull appeared to cover the ship's main reactor, but was also the location of several cannons. The class had two main thrusters and no visible secondary thrusters.
The Gladiator-class was originally envisioned as a Republic escort vessel for the Victory-class Star Destroyer, and the initial design was made by Walex Blissex for Rendili StarDrive. The final design was not finished until after the end of the Clone Wars, and with the Victory-class being abandoned as a main warship by the Galactic Empire, the specs were handed over to Kuat Drive Yards.
- from Wookieepedia, the Star Wars Wikia.