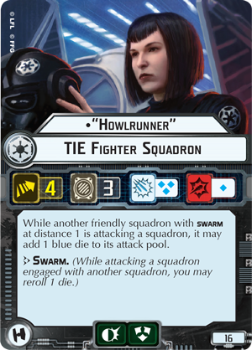 Squadron Information
Hull Points:



Speed:




Point Cost: 16
Anti-Squadron Armament:



Anti-Ship Armament:

Keywords

Swarm
Defense Tokens:

Brace

Scatter
Unique Ability:
While another friendly squadron with SWARM at distance 1 is attacking a squadron, it may add 1 blue dice to its attack pool.
Background
Civè Rashon was a Human female TIE pilot in the Imperial Navy during the Galactic Civil War. She led Obsidian Squadron, an elite TIE squadron stationed aboard the Star Destroyer Avenger, and was given the call sign "Howlrunner". In 3 ABY, Rashon and Obsidian Squadron participated in the takeover of the planet Bespin and in the pursuit of the fugitive Rebel starship, the Millennium Falcon, as it escaped the planet. A year later, Rashon and Obsidian Squadron fought in the Battle of Endor.
- from Wookieepedia, the Star Wars Wikia.