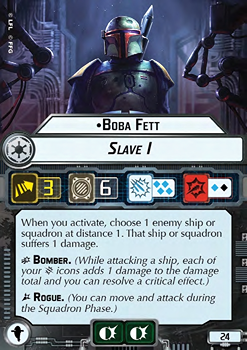 Squadron Information
Hull Points:






Speed:



Point Cost: 26
Anti-Squadron Armament:




Anti-Ship Armament:


Keywords

Bomber

Rogue
Defense Tokens:

Brace

Brace
Unique Ability:
When you activate, choose 1 enemy ship or squadron at distance 1. That ship or squadron suffers 1 damage.
Background
Boba Fett was a Mandalorian warrior and bounty hunter. He was the only unaltered clone of the famed Jango Fett, created in 32 BBY as unit A0050, one of the first of many Fett replicas designed to become part of the Grand Army of the Republic, and was raised as Jango's son. Jango taught Boba much, training him to become a skilled bounty hunter as was his father-figure before him. In 22 BBY, Jango was killed at the Battle of Geonosis, which opened the Clone Wars. Just a boy, Boba was forced to grow up and took to traveling the galaxy. Later, he became a bounty hunter and took assignments from beings such as Jabba the Hutt, and achieved notoriety despite his young age.
- from Wookieepedia, the Star Wars Wikia.