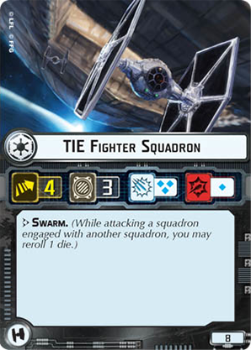 Squadron Information
Hull Points:



Speed:




Point Cost: 8
Anti-Squadron Armament:



Anti-Ship Armament:

Keywords

Swarm
Background
The TIE/LN starfighter, or TIE/line starfighter, simply known as the TIE Fighter, was the standard Imperial starfighter seen in massive numbers throughout most of the Galactic Civil War and onward. Colloquially, Rebel and New Republic pilots referred to the craft as "eyeballs".
- from Wookieepedia, the Star Wars Wikia.