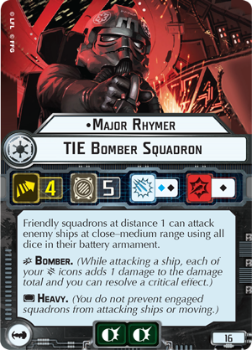 Squadron Information
Hull Points:





Speed:




Point Cost: 16
Anti-Squadron Armament:


Anti-Ship Armament:

Keywords

Bomber

Heavy
Defense Tokens:

Brace

Brace
Unique Ability:
Friendly squadrons at distance 1 can attack enemy ships at close-medium range using all dice in their battery armament.
Background
Rhymer was an Imperial TIE/LN starfighter pilot during the Galactic Civil War, serving in Scimitar Squadron. By the Battle of Endor, he reached the rank of major. As the Death Star II was blowing up, Rhymer took part in the evacuation. He was the pilot of Scimitar 1.
- from Wookieepedia, the Star Wars Wikia.